WordPress is a very popular blogging tool and CMS. It is easy to understand why. It is easy to use, easy to modify and have the backing of a very large community of people that develop plugins and themes that you can use to enhance WordPress. WordPress also make it easy to sell websites since the buyer can feel certain that he will know how to manage and update the site. Something that can be a lot harder to do if the site uses a less popular or custom CMS that the buyer might know nothing about.
A large percentage of all websites are built using WordPress. This is true even if many of them look nothing like what you expect WordPress to look. This is due to the fact that WordPress support a lot of customization and due to the very large number of WordPress themes that are available on the market. This website is designed to help you choose the right theme to your website. A theme that give you the look and the functionality that you want in your website.
---

Free, Premium or custom theme
The first question that you face when you want to set up a WordPress website is whether you want to use a free, premium or custom WordPress theme. A custom theme is always the best option if you have the skill to build one or the resources to pay someone else to do it. A custom theme makes sure that you get exactly what you want. It also makes sure that your theme isn't bloated with a lot of feature that you do not need that slows down the load times. Something that is very common in Free and Premium themes. Most websites using pre-made themes have more than 1000 unused CSS rules. Rules that does not contribute anything to the site and causes the website to load slower then necessary. Pre-made themes that lets you choose between several different colour schemes can have more then 10 000 unused CSS rules. Every colour scheme needs have their own set of rules that are loaded despite not being needed. Unused CSS rules does not only slow down they site. They will also make the code harder to edit. A WordPress theme should ideally have no unused rules.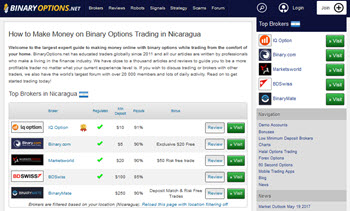 If you choose to design a custom made theme then it is important to remember to not add too many features. It is easy to get carried away and try to build a site that can do everything but sometimes less is more. Try to give the user what he needs. You can see a good example of how a simple design can be the best option here. This is a site that gives the users the information they need in a clean uncluttered interface. It focus completely on its main purpose. To allow the reader to compare binary options brokers.
Being able to use a custom CSS theme is however a luxury that far from everyone can afford. If you do not feel that you can or want to invest the resources needed to develop a custom theme then you need to settle for using a premium or free theme.
Premium Themes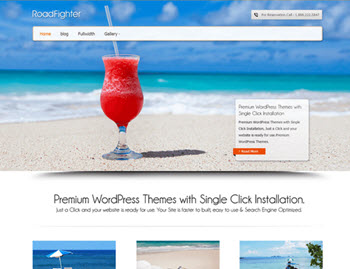 Premium themes can vary a lot in price and quality. It is important to know that the term premium theme does not imply that the theme keeps a certain quality or that it is better than a free theme. The term premium theme simply refer to any theme that the developer charges you a fee to use. There are a lot of good premium themes available on different theme markets and directly from different developers but there are also poorly made and sometimes even broken themes available. Make sure that you choose to buy a high quality theme before you decide to spend the money to buy a premium theme.
The main reason to use a premium theme in general is to stand out from the crowd. There are lot of websites using free themes. That means that most people will have seen the same themes on several different websites. Each premium theme is use
d on fewer websites and it is therefore less likely that your visitors will have seen it used before. Premium themes are used on numerous websites and you can never be sure that your visitors haven't seen it before unless you make a custom theme.
There can be a number of different reasons to chose a certain premium theme. Different theme offers different features and there are many features that you will only find in premium themes. This means that you will need to chose a premium theme if you want to be able to use that feature without building your own solution.
I generally recommend that your start by using a free theme first and then switch to a premium theme when you site starts to grow and you have a better feel for what you want to accomplish with your website.
Free Themes
Most people chose to use a free theme when they build their first website. This is usually a good idea unless it is a commercial venture. Using a free theme allows you to get your site up and running without having to spend any money. It will also give you the opportunity to learn how WordPress works and what functions you feel you need on your site before you start looking for a premium theme or decide that you want to develop your own theme. In many cases you might discover that a free theme offers you everything you ever need. This will almost certifiably be the case if you are looking to build a personal blog.

It is important to understand that a free theme is not the same as a simple theme, bad theme or anything like that. Many free themes hold the same quality and are just as advanced as premium themes are. That a theme is free simple means that the developer have chosen to give it away for free rather than to force you to pay for it. There are many reasons to do so. One is to build a reputation within the industry to be able to get a job as a developer or to be able to start develop premium themes. Most bloggers chose to use a free theme. This means that free themes that are added to the WordPress repository will be used on a lot more sites and give the developer more exposure than a premium theme ever would.
The fact that so many bloggers chose to use free themes and that so many blogs use the same theme is one of the main reasons to use a premium theme or a custom theme. A premium theme will be used on fewer website and will therefore make your site more unique. Many surfers will have seen many websites built on the same free theme as you chose to use but only a few of them will have seen another website using a particular premium theme. Building a custom theme guarantees that your site is unique and that you do not have to worry about other sites that looks the same. This makes your site look more professional. A site that use the same free theme as a 1000 other site will always look less professional.
Always download your free themes from WordPress.org. That way you know that they are virus and malware free. Themes downloaded from other sources can have all kinds of nasty surprises in the code.
Avoid pirated themes
It can be tempting to download a premium theme from a third party that offers it for free. I strongly recommend against this. Most themes are not very expensive and you should support the work of the developers so they can continue to build more themes. This is however not the main reason that you should avoid downloading pirated themes. The most important reason that you should avoid downloading pirated themes is that a very high percentage of them contains exploits that that the uploaders can use to get access to your site. These exploits can give the uploaders access to add links to your site or steal information from your visitors. Many themes are designed in such a way that they look clean when you install them. The pirates then wait for a couple of weeks after which they add links or malware to your site. It is common that these links only are visible for search engines and not for users. They can however hurt you in the search engines and prevent your site from getting a lot of exposure. If you can not afford to buy a premium theme then you should download a free one from the WordPress repository. Downloading pirates themes is not worth the risk.